What your Eye Exam Can Say About Your Overall Health
You have heard it time and time again, you should see your eye doctor or optometrist once a year. But why?
What happens if you don't have glasses or contact lenses? Do you still go?
Did you know that an appointment with your optometrist can potentially save more than just your vision?
A comprehensive eye exam can detect important information about your general health.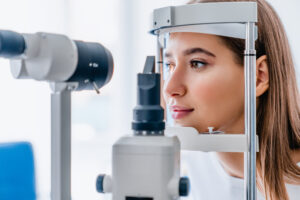 What can be detected in an eye exam?
Here are some items to name a few: diabetes, hypertension, rheumatoid arthritis, high cholesterol, cancer, multiple sclerosis (MS)
Inflammation, blood vessel damage and eyelid problems can all point to a larger health condition that needs attention.
If your eye doctor detects any of these symptoms, they may refer you to a specialist.
When was your last eye exam?
Do not delay your annual eye exam.  It is for your health.
Please call us at 713-436-7544 today to schedule an annual eye exam with Dr. Linda Haidar or Dr. Dipak Kalani at Vision Source Shadow Creek!