It's Officially Fall. Are Your Eyes Itching?
It's officially Fall and pumpkin-spiced everything is on the menu, people are decorating their front porches with skeletons, and it's the time when all of us will see pictures of cute kids in pumpkin patches.
As much as Fall is an incredible time of year for weather and fun with your family, and a window to all the holidays, it also means something NOT fun for a great majority of us – 60 million Americans to be exact.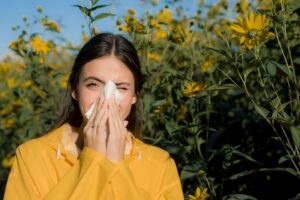 Fall brings allergies to Houston. In fact, Houston's pollen count history shows that ragweed pollen counts are highest from August to November. 
Those of us who have gone through it before, know the drill. You wake up and your eyes are tearing, feel irritated, red and itchy. Sometimes it may even get in the way of your morning drive to work.
You reach for your old eye drops or go to the local pharmacy to see if you can get more, but sometimes it doesn't do the trick.
A couple of weeks ago the focus was on back to school and getting kids ready with glasses; it's crazy that now we are seeing several patients show up with eye allergies.
Some common symptoms we see daily:
Itching
Redness
Watery
Puffiness
Foreign Body Sensation (feels like you have something in your eye)
Dr. Dipak Kalani and Dr. Linda Haidar work with so many patients coming in with allergies every day. We urge all patients to come get their annual eye exams and it's a great time to check out if the discomfort you are experiencing is due to eye allergies. There are several different eye conditions that could be confused for allergies, like Dry Eye Syndrome, etc. and several different types of allergies that cold be treated differently – with antihistamines or drops.
There are several remedies the doctors at Vision Source Shadow Creek can prescribe or share with you, but first and foremost, you need to get your eyes checked, if not only for your vision's sake, for your overall health!
How will you be safe behind the wheel if your eyes are not clear?  Call us today at 713-436-7544 to schedule your eye exam today!