Stephanie's Road To LASIK: From Pre-Op to Post Op
Stephanie has been a part of our Vision Source Shadow Creek family from the start. She has worked as part of our team since 2011; over 10 years now!  We have heard Stephanie's struggles with her own vision and tried to help her get them under control. From the dry eye caused by contact lens wear to the headaches she felt from her glasses, we experienced it all with her. It was just time to take the plunge, and we are so happy she did.
It's been a month since Stephanie, an optician here at Vision Source Shadow Creek/Pearland, had her big, life-changing day. Stephanie had her LASIK procedure with Dr. Stephen Slade on June 2nd at Slade & Baker Vision, and she shared her full journey with us from pre op to post op.  Since Stephanie walked us through her very own 'Road to LASIK' in her own words, we wanted to summarize it with you below.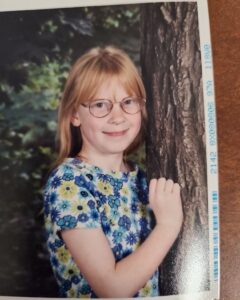 Stephanie struggled with glasses and contacts for almost her entire life. Dr. Dipak Kalani, OD, who has known Stephanie for over 10 years, shared "I have personally seen Stephanie struggle with night vision problems, dryness issues with contacts, headaches with glasses, etc. Stephanie shared with us that the main reason she decided to go forward with LASIK was due to the dryness and the headaches."  We don't blame her!
Stephanie also shared the process of how Dr. Dipak Kalani at Vision Source Shadow Creek could help patients with their LASIK journeys as well.
Stephanie's Road to LASIK Diary
May 19, 2022: LASIK Screening + Pre Op
Two weeks prior to my surgery, I said goodbye to my contact lenses! I was a -7.00 in my contact lenses.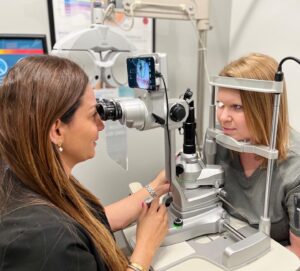 At my LASIK Pre Op with Dr. Kalani, Dr. Kalani finalized that I was a candidate for LASIK, set up a game plan to prepare me for my surgery and pulled me out of my contact lenses 2 weeks prior to surgery.
I wore glasses full time for those two weeks…and just feel it is important to note for other patients that this was not pleasant for me because they gave me a headache (as they always have), BUT I will say the end result of the LASIK (where I don't have to wear them ever again) was SO worth it!
June 2, 2022: Day of surgery! 
9:41 am:  I woke up several times last night and could NOT go back to sleep because I wanted to get today started. So ready.
I am definitely nervous but more excited to never have to wear these glasses again lol.
Night vision problems, dryness issues with contacts … headaches with glasses, etc.…all of these things are an issue every day. The dryness and headaches are the main thing I am so happy to be done with. Just knowing the benefit of having this surgery ALMOST eliminates the nervousness that comes with it.
The headaches only came with the glasses. I think it was from putting pressure on my base and ears or something. I wore contacts almost every day except on the weekends and nights I wore the glasses.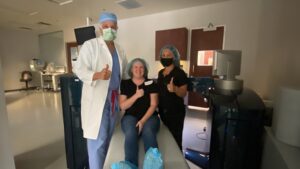 1:40 pm LASIK day After being here [at Slade & Baker Vision] everyone is so nice and they really make you feel relaxed. I'm really not nervous anymore. It's almost time!!!!!
June 3, 2022: Day 1 post op! 
9:32am: I woke up and I could see!!!  OMG it was so unbelievable!  I'm so excited!!!
3:52 pm: I just woke up from a nap and it's so weird waking up and seeing right away lol.
Today was my #Day1LASIKPostOp with Dr. Kalani. Dr. Kalani took a look at my eyes in the slit lamp to make sure my corneas were healing well from LASIK yesterday and he also checked my vision…and…guess what…I am 20/20!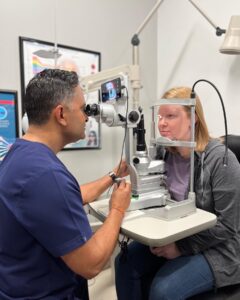 July 1, 2022: One Month After LASIK
Honestly, I think everything has changed. My daily life in general is better. My attitude, my vision. NO MORE HEADACHES.
If you would like to ditch your contacts or glasses this summer, or just want to see if you're a candidate for LASIK (like me), make an appointment at VISON SOURCE for a free consultation with our office today! Call us at 832-757-1607 to take advantage before the summer ends and you have to go BACK TO SCHOOL!