Kids Need Sunglasses: Back To School
The end of August in Houston means Back to School!
We see a lot of children at Vision Source Shadow Creek, so we wanted to touch base on how important sun protection and eyeglasses are for children.
Kids spend a ton of time outside enjoying recess at school, sports and playtime on the playground and although parents focus on always sending kids outside with sunscreen to protect their skin, do parents think enough about protection for their eyes?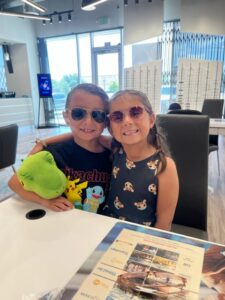 Do children NEED to wear sunglasses?
According to this Article from Mayo Clinic – Children receive more annual sun exposure than adults. A heightened exposure to sunlight also heightens the risk of eye damage from ultraviolet (UV) light and unlike the eyes of adults, children's eyes cannot filter out the harmful UV rays as effectively as ours can because they are still maturing.
Children's skin is also more vulnerable than our skin, so their delicate skin around their lids and eyes is in danger from long term exposure to UV light.  Some of the more serious eye damage that happens from long term UV exposure includes cataracts, age related macular degeneration, and pterygium.
Did you know eyes can get 'sunburned'?
Short-term side effects from UV light include sunburning of the eye which is called 'photokeratitis.' Photokeratitis is also called 'snow blindness' which basically happens when UV light reflects off of sand, water, snow or ice or if you stare directly at the sun.
The right pair of sunglasses will help protect the skin around the eye and the eye itself and they should be worn every day to protect your children from UV rays which are even damaging on a cloudy day!
If you want tips on children's sunglasses or even the right sunglasses for you, please call our
Vision Source Shadow Creek
office at 713-436-7544 to help get you and your little ones get into the right pair of sunglasses!  We can also help get your children in the right pair of glasses to see the board effectively enough at school.